Jason waterhouse, Deceptions
Deceptions
JASON WATERHOUSE
Over the last twenty years, Jason Waterhouse has been applying his malleable skills to public commissions, installation and drawing, articulating his poetic relationship to the world by warping and manipulating utilitarian objects. Advocating a non-elitist form of art making, Waterhouse thrives on altering spaces and objects through a strong craft sensibility combined with the Western idea of the ready-made.
In his latest exhibition Waterhouse has crafted an installation of six intimate objects connected through the theatrics and deception of material and space. With the works taking their starting point from his dual interests in the manufactured and the natural world, Deceptions darkly narrates open-ended uncertainty through trickery and illusion. Mimicking nature and tools, the works create a sense of unease and wonderment, enabling cinematic narratives viewers are more likely to see in science-fiction films. Carved marble branches with crystalline forms, branches spawning supernatural growths, and carefully sculpted pieces of marble tenderly carved; blurring the lines between the fabricated and the found object. Working within this trajectory and using an assortment of personal and cultural signifiers, Deceptions psychologically engages the space between the known and the unknown.
Jason Waterhouse's practice plays with autobiographic notions of contemporary Australian identity and he is widely known for playfully manipulating tools, cars, sheds and other cultural signifiers. Previous works have involved a series of interventions resulting in a hybridised object that occupies a space between the natural and the manufactured. Jason Waterhouse completed a BFA in sculpture at Monash University and Post-Grad at the Victorian College of the Arts. Over the last twenty years, Waterhouse has exhibited his work extensively in Australia, including at the Biennale of Australian Art, Ballarat (2018) and The Scienceworks Museum, Melbourne (2016). His recent public art commissions include 'Levelled Crossing', Melton Highway, Brimbank Council and 'Cottage', Daylesford Lake, Hepburn Shire.
Deceptions
JASON WATERHOUSE
Crystalline Branch, 2019
marble, acrylic paint
14 x 34 x 5 cm
Deceptions
JASON WATERHOUSE
Liquid Branch, 2019
bronze, acrylic paint
54 x 32 x 13 cm
Deceptions
JASON WATERHOUSE
Dad's Hammer, 2019
marble, acrylic paint
6 x 10 x 32 cm
Deceptions
JASON WATERHOUSE
Geometric Branch, 2019
bronze, acrylic paint
5 x 14 x 34 cm
Deceptions
JASON WATERHOUSE
Tap, 2019
marble, acrylic paint
42 x 8 x 10 cm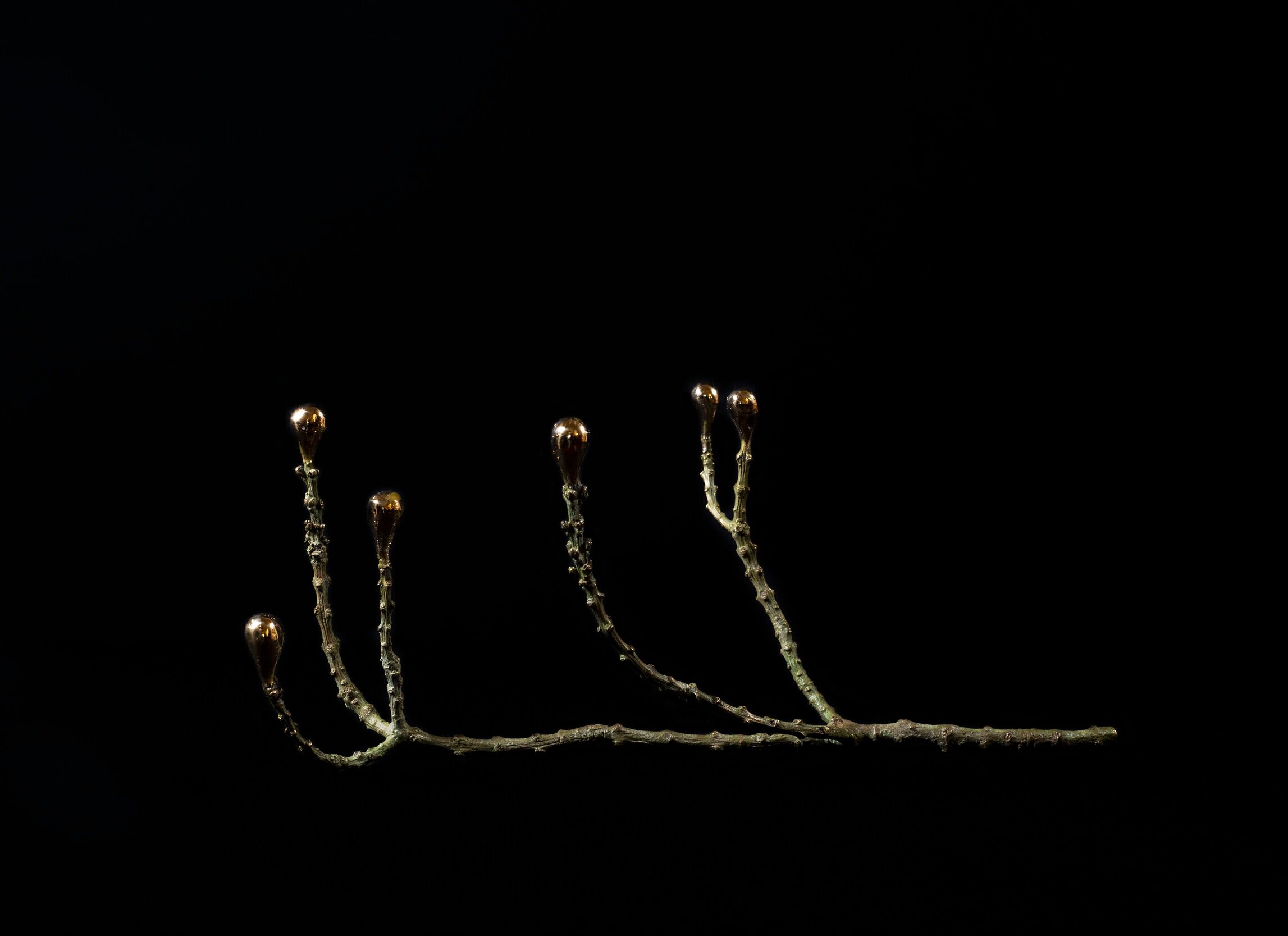 Deceptions
JASON WATERHOUSE
Go tell it to the trees (gold), 2019
bronze, acrylic paint
13 x 16 x 33 cm