ANGELA CHAUVIN
How is a Window
Solo Exhibition . Stockroom Gallery, Kyneton

Angela Chauvin's work sits within the traditions of observational oil painting, documenting her experience of the physical world around her.
In this exhibition Chauvin has created a series of paintings made in artists' studios, with a special focus on how windows exist in these spaces symbolically and experientially. Translated through a hybrid of drawn and painterly marks, her work explores the translation of perception of reality into visual and material artworks.

Based in Melbourne, Angela Chauvin recently completed her Bachelor of Fine Arts at RMIT and her Honours at VCA. In 2018 she was one of three recipients of The Macfarlane Fund for her outstanding final year body of work. Stockroom is excited to present Chauvin's first solo exhibition.
ANGELA CHAUVIN
Blue Louvres, 2019
oil on linen
120 x 90 cm
SOLD
ANGELA CHAUVIN
Green Tablescape, 2019
oil on linen
72 x 97 cm
I ENQUIRE I
ANGELA CHAUVIN
Blue Print Room, 2019
oil on linen
120 x 90 cm
SOLD
ANGELA CHAUVIN
Bonsai Shed, 2019
oil on linen
112 x 87 cm
I ENQUIRE I
ANGELA CHAUVIN
Pink Pigeons on Brunswick, 2019
oil on linen
80 x 60 cm
SOLD
ANGELA CHAUVIN
The Right Dose, 2019
oil on linen
40 x 40 cm
SOLD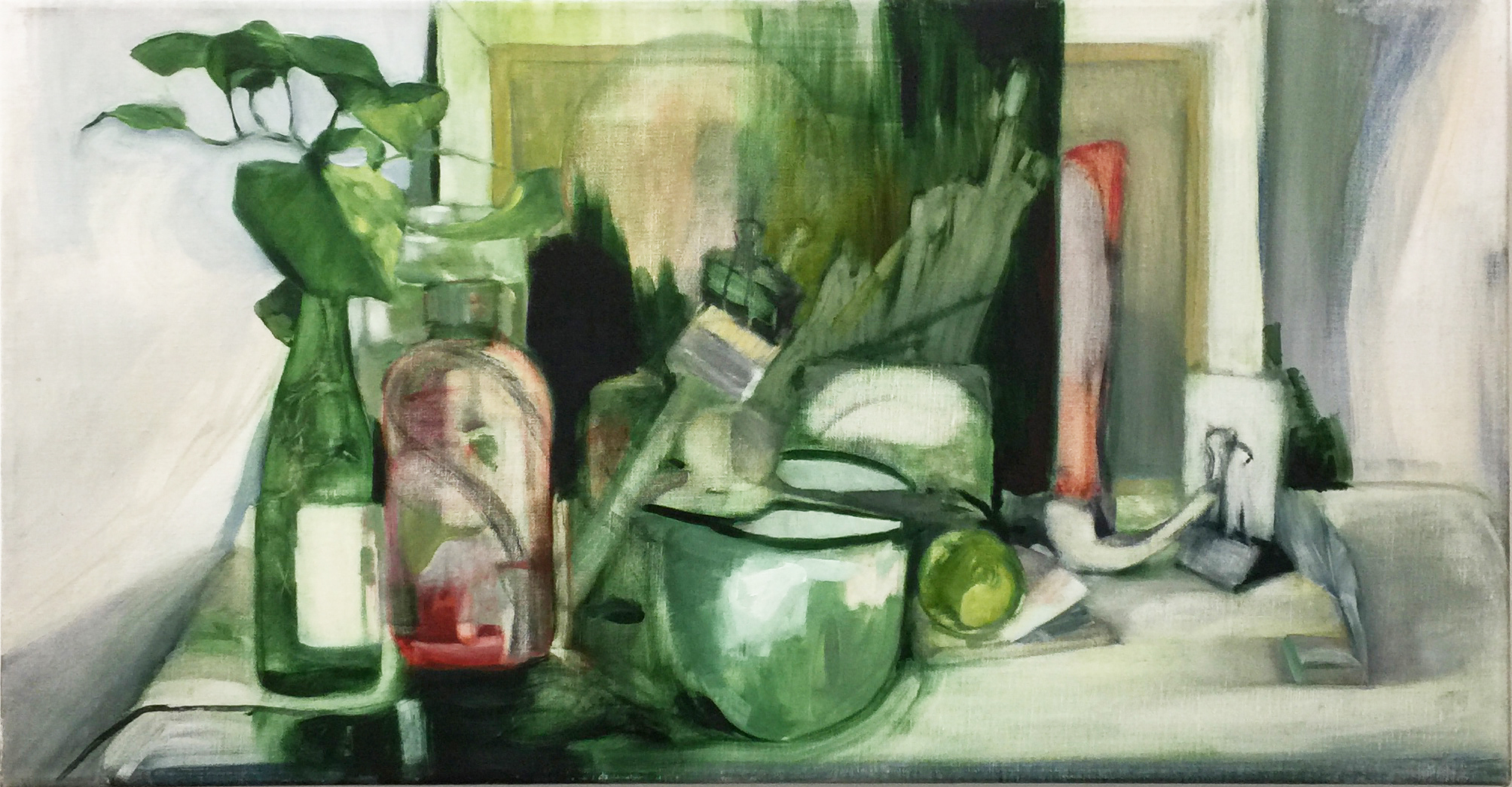 ANGELA CHAUVIN
Studio Things, 2017
oil on linen
41 x 77 cm
I ENQUIRE I
ANGELA CHAUVIN
The Way Out, 2018
oil on linen
150 x 112 cm
SOLD
ANGELA CHAUVIN
EmptyFull, 2016
oil on linen
138 x 112 cm
I ENQUIRE I