BOOKER & CO
Xpress boots, white crack
Booker & Co
Xpress Boots
The Xpress boot is a mid-length boxing style boot and this season has been hand crafted in white 'crack' cow leather. This super popular leather colourway teamed with the Xpress Boot syling is an absolute show stopper and will be this season's new great neutral coloured boot!
The Xpress Boot has a hidden YKK metal zip on the outside of the boot which allows quick access in and out. These boots are unlined and will lusciously mould to your foot, ankle and leg shape and are crafted on a C width last for that extra bit of comfort-inducing-width in the toe region!
Hidden, impact reducing EVA flatform sole lies within this heavily engineered boot providing comfort + the added bonus of an extra bit of height!
There is a full length memory foam insole under the leather sock. In keeping with our commitment to slow fashion the outsole on these boots is fully resoleable. Waxed cotton laces.
These boots have been designed, patterned, prototyped and tested in Melbourne by Karen Booker. Our full size ranges are then handcrafted in Bali by artisan cordwainers.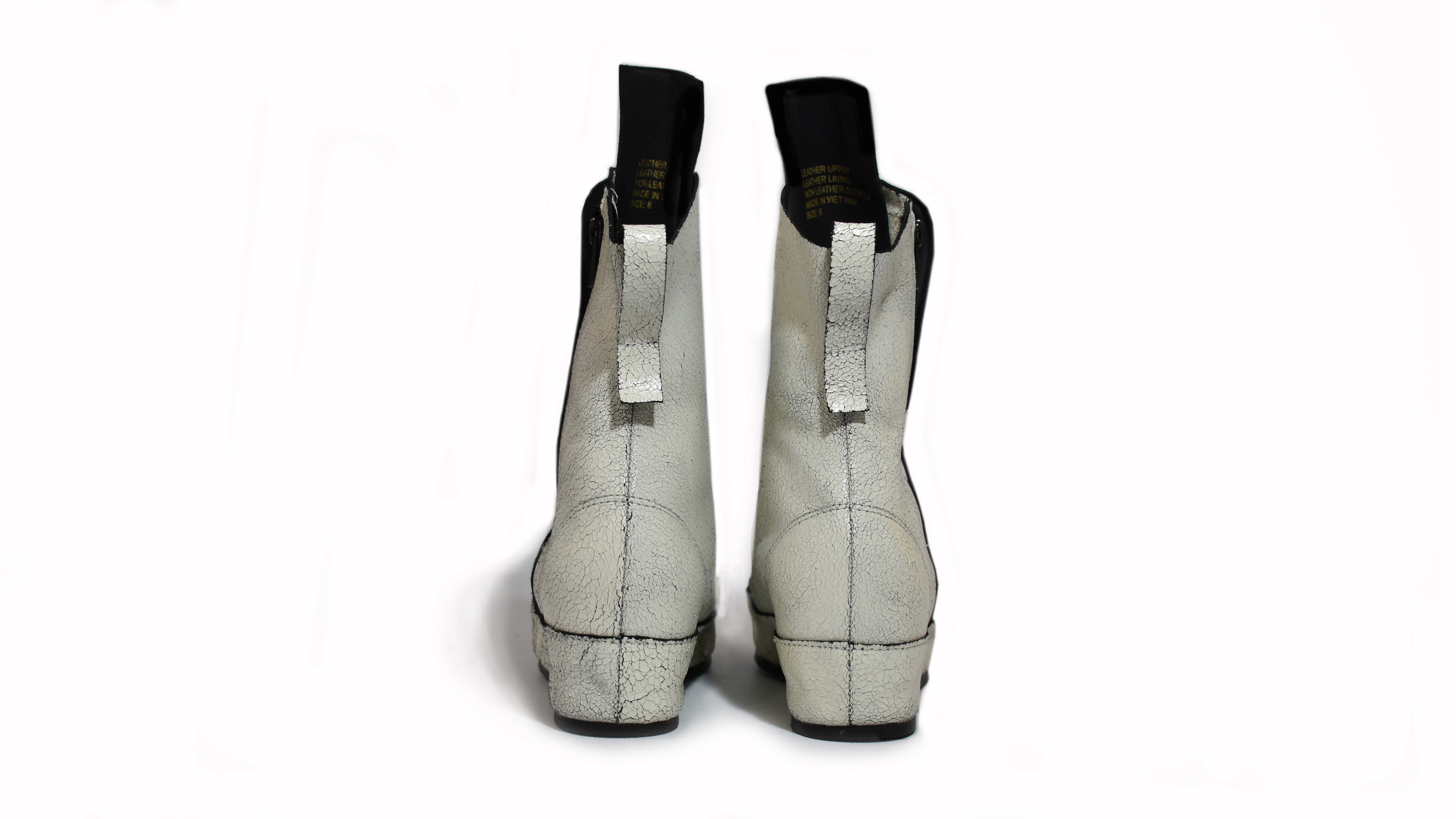 Additional Info
These shoes are sized to fit the modern woman's foot. This means these shoes will not crush your feet but gently encapsulate them.
If you are unsure of what size to order have a look at our chart.
To achieve the most accurate fit you should measure your feet and compare your measurements to the chart, alternatively email us through the measurements and we can select the size that we think will fit you best.
How to measure your feet
Place a piece of paper on a hard floor (not carpet), against the wall.
Stand barefoot on the paper with your heel hard against the wall, legs straight with feet hip width apart.
Make sure the paper has not shifted and is still flat and against the wall.
Draw a line on the paper at the very end of your longest toe.
Measure the distance between the edge of the paper that was against the wall and the line you drew.
Measure it again to double check the measurement.
Do this again with the other foot.